Duncan Haynes presents: Directions in Jazz is an ongoing project to share the joy of improvised music with a wider audience. Each show is focused on a key direction jazz has taken in its 100+ years of evolution, showcasing the beauty and drama of different currents in jazz music.
The Hard Bop session
The classic hard-swinging, hard-blowing sound of the 50s and 60s. Featuring the music of Horace Silver, Donald Byrd, Lee Morgan, Herbie Hancock, Hank Mobley, Cedar Walton, Duke Pearson, Wayne Shorter, John Coltrane.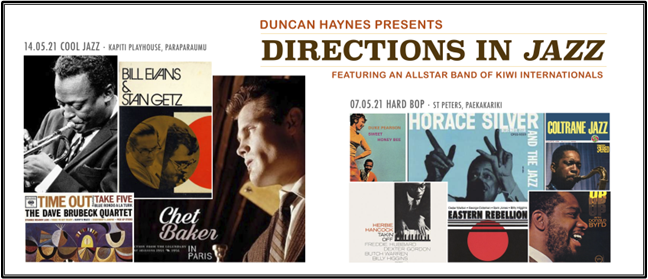 The Cool Jazz session – The sophisticated and tasty sounds of the 50s. Featuring the music of the MJQ, Dave Brubeck, Lennie Tristano, Miles Davis, Bill Evans, Chet Baker, Stan Getz, Gerry Mulligan, Shorty Rogers, Lee Konitz
The Vocalese session
The legendary jazz vocalists with a bunch of swinging tunes and great soloists in between. Featuring the music of Billy Strayhorn, John Coltrane and many more.