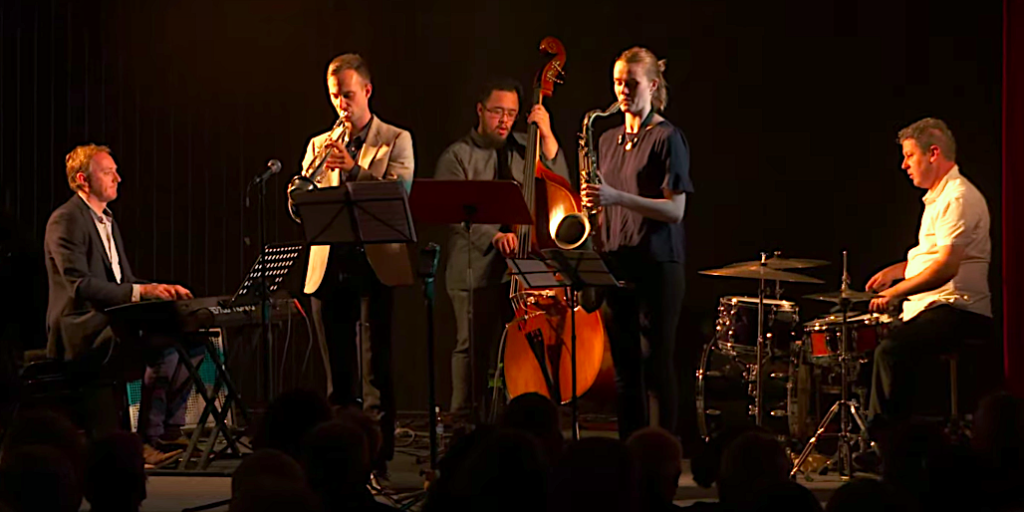 Duncan Haynes brings his Directions in Jazz series to Jazz in Martinborough with his Cool Jazz/West Coast Sessions. Here's how Duncan describes his The Cool Jazz /West Coast Session: "The focus is on the cooler sound that evolved in the late 1940s as a counter-movement to the adrenalin rush of bebop. It continued through the 1950s propelled by superstars of the time: Dave Brubeck, The Modern Jazz Quartet, Shorty Rogers, Miles Davis, Lennie Tristano, Chet Baker, Stan Getz, Gerry Mulligan."
Led by award-winning international pianist Duncan Haynes, the band is packed with some of Aotearoa's finest jazz musicians & Tui award-winners: Seth Boy (bass), Jake Baxendale (tenor sax), Michael Costello (trumpet) and Shaun Anderson (drums).
Directions in Jazz
The Cool Jazz/West Coast Session is part of Duncan's series of shows called Directions in Jazz.
"These shows aim to broaden horizons for jazz audiences and to share our passion for creating genuine musical moments. I've chosen the repertoire for each of the Directions in Jazz shows to represent the most significant players and elements associated with the style, but most importantly, the goal is to communicate the joy of improvisation. More than just walking away having appreciated a swinging band and their musical prowess, I want the audiences to feel involved in the energy, the drama, humour and spirit of play that is real improvisation. To have almost felt that they were part of the band, an integral part of the moment."
Duncan Haynes
Duncan studied at Wellington's Massey School of Jazz in the late 90s alongside many leading lights of the current NZ contemporary jazz scene, and his string arrangements adorn Bic Runga's multi-platinum selling NZ pop albums Drive (1997) and Beautiful Collision (2002).
His 20 years overseas have seen him collaborate with a wide range of top musicians from genres as varied as world music, rock and blues and avant-garde jazz. He has performed at many famous clubs and venues in London including: Ronnie Scotts, Wembley Stadium and Lords in addition to performing at jazz festivals across Europe from Warsaw, Poland and the Netherlands to Ireland and the popular Festival on the Isle of Wight.
While living in Peru he performed with a number of world-class artists including Susana Baca, Eva Ayllon and Andres Prado, and in Paris he established the world music/jazz crossover group Cuarteto Imaginario in 2017. Since returning to NZ in late 2020 he has quickly become one of the most sought-out players on the Wellington scene including performing for Umar Zakaria's headline series of "Sun Song" shows at the 2021 Wellington Jazz Festival (recorded and broadcast by RNZ) and completed a critically acclaimed South Island tour with the Duncan Haynes Trio performing original contemporary jazz.