---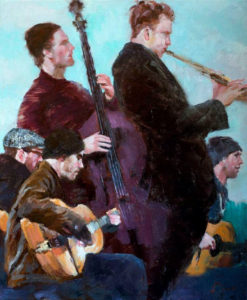 Start Jazz in Martinborough 2016 with an exciting and exhilarating performance from a bunch of masterly Gypsy Jazz musicians.

Black Spider Stomp is a Gypsy Jazz ensemble born in the heart of Wellington. The talents of these five virtuosic musicians are combined to create a wealth of highly polished original repertoire featuring blazingly swift swing, deep sultry ballads, old-world waltzes and foot-stomping shuffles.
They also play vibrant re-imaginings of classic jazz by Louis Armstrong, Sidney Bechet, Django Reinhardt and many others.
Constantly evolving and releasing new material, Black Spider Stomp are definitely one of the most exciting gypsy jazz entities to come out of New Zealand.
Black Spider Stomp are: Oscar Laven (Saxophone, plus), Adrian Jensen (Guitar), Scot Maynard (Bass), Sam Thurston (Guitar) and James Quick (Guitar).
---
Oscar Laven
An eclectic saxophonist and multi-instrumentalist based in Wellington, New Zealand. A frequently-appearing personality in the Wellington jazz scene, Laven is a busy full time performer, composer and teacher with bachelor degrees in jazz and classical performance from the New Zealand School of Music.
He has performed/recorded internationally and across the country with many ensembles including the Oscar Laven Quartet, Laven-French Quintet, his big band The Neo Hot Jive Orchestra, The Royal New Zealand Air Force Band, Orchestra Wellington, The Rodger Fox Big Band, New Zealand School of Music Big Band, National Youth Orchestra and Youth Jazz Orchestra, Black Spider Stomp, The Wellington City Shake 'Em On Downers and many others.
---
Adrian Jensen
Adrian Jensen started playing as the rhythm guitarist for Black Spider Stomp and The Roseneath Centennial Ragtime Band in 2011. In 2013 he started The Dancing and Drinking Society with Mat Enright to explore the early New Orleans style of music. He is a predominantly self taught guitarist interested in early jazz and swing music from the 1920s, 30s and 40s.
---
Scot Maynard
Scot Maynard is a prominent bassist in the Wellington music scene. He has been playing with Black Spider Stomp since 2011, and also appears with Groeni, Sam Manzanza, The Lex French Quintet, The Neo Hot Jive Orchestra and many others.
---
Sam Thurston
Sam Thurston, co-founder of Black Spider Stomp, has written much of their original material. An experienced guitarist in a range of genres, in addition to being a highly accomplished gypsy-jazz player, Thurston runs several successful punk bands and has toured internationally across Europe and Southeast Asia."
---
James Quick
James Quick co-founded Black Spider Stomp with Sam Thurston over 5 years ago, and also wrote a large proportion of their original material. A polished guitarist in gypsy-jazz, straight-ahead jazz, punk music and more, Quick has done multiple international tours, and is now juggling music with being a father to his 2-year-old son.
---
You will need a ticket to this gig if you remain in The Village Cafe after 6pm
---